Recycling in the Manufacturing Industry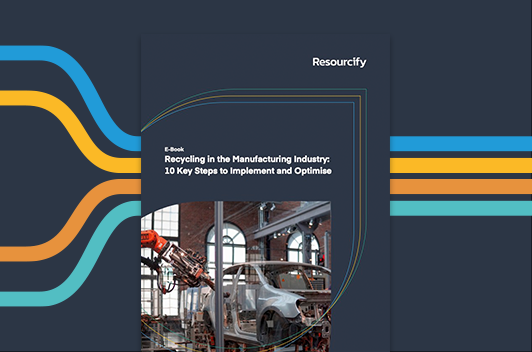 10 Key Steps to Implement and Optimise
Expanding legislation, including EU directives and state laws, are increasing the pressure on industry to reduce waste and recycle more. At the same time, more and more companies are focusing on sustainability as a new corporate goal, which has the added benefit of helping to set them apart from the competition.
But many waste managers find it difficult to identify recyclable materials in their company's waste, because complex and non-transparent waste management processes can make it hard to achieve ambitious sustainability goals.
This e-book sets out to provide an overview of the most important processes for the efficient and effective implementation of recycling and will also demonstrate how digital solutions can:
simplify and improve your waste and recyclables management,
reduce effort and costs for your recycling tasks, and
support your company in becoming futureproof in this area through innovation and state-of-the-art technologies.
Download Our Guide Now
Please fill out the form below.