University Hospital Bonn Digitises Waste Management With Resourcify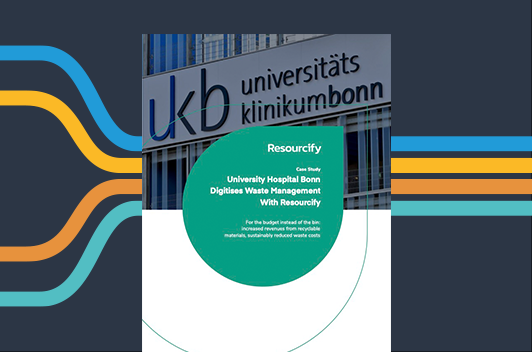 For the budget instead of the bin: increased revenues from recyclable materials, sustainably reduced waste costs
With 1,300 patient beds, more than 8,000 employees and 350,000 patients per year, the University Hospital Bonn (UK Bonn) is one of the largest in Germany. Like many other hospitals, the UK Bonn has a waste problem: more than 6,300 tonnes of it are generated each year – and it needs to be disposed of safely and responsibly. Michael Schmitz took charge of waste disposal management at the UK Bonn in October 2018 and was immediately faced with an enormous operational and financial need for action. "The disposal system was in need of overhaul and was causing annual costs of around €950,000 a year," he explains. To tackle the issue, the UK Bonn began working with Resourcify in 2019.
"I know many German hospitals, as well as their waste management systems. When it comes to software, we are in a leading national position thanks to Resourcify."
Michael Schmitz, Head of Department Infrastructure Service, Sustainability Department and Waste Management Officer
Download our case study now
Please fill out the fields below.