HORNBACH Baumarkt AG Achieves Ambitious Recycling Goals through Digitisation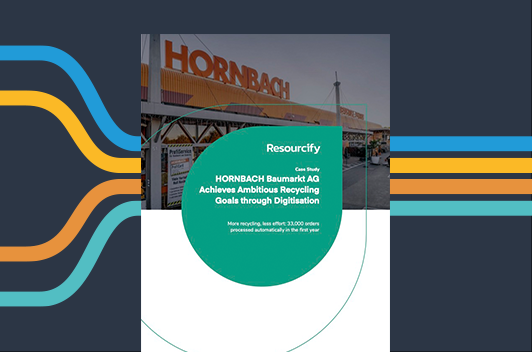 More recycling, less effort: 33,000 orders processed automatically in the first year
HORNBACH Baumarkt AG operates around 160 DIY stores with garden centres in nine European countries, generating sales of more than €4.1 billion. As early as 2012, the company recognised the need to fundamentally redesign its complex waste disposal processes and began to modernise its then 180 collection points, with their many waste fractions and numerous affiliated disposal companies across all languages. Aiming to digitise its waste management and achieve ambitious recycling goals, HORNBACH launched a development partnership with Resourcify in October 2018.
"By working with Resourcify, we can optimise processes, save costs and generate revenue from recyclables. But for us, the issues of waste disposal and sustainability are much more than just a cost factor."
Andreas Back, Head of Quality Management / Environment & CSR
Download our case study now
Please fill out the fields below.